Arizona Veteran Employment - Roadmap - Home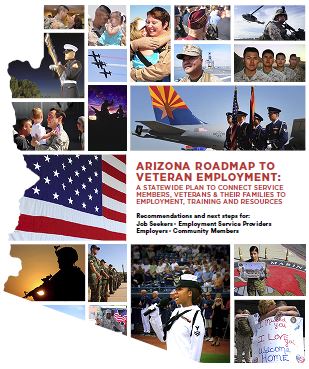 Arizona is home to more than 625,000 service members and veterans from all branches and eras of service. These individuals and their families have proven to be a valuable asset to our state and our workforce. 
The Arizona Roadmap to Veteran Employment, developed in partnership by the Arizona Department of Veterans Services, Arizona Coalition for Military Families, and many public and private sector partners and shareholders, is a comprehensive statewide effort that focuses on connecting service members, veterans, and their family members to employment opportunities, training, and resources.
We hope you will find the following materials useful to understand veteran employment requirements and opportunities, and our and others efforts to fulfill them:
Arizona Veteran Employment - Roadmap - Governor's Cover Letter (PDF)
Arizona Veteran Employment - Executive Overview Document (PDF)
Arizona Veteran Employment - Roadmap - Full Document (PDF)
Watch the video below and Support the Arizona Roadmap to Veteran Employment by visiting:
Be Connected: Career Navigation