Arizona Veterans' Memorial Cemetery at Marana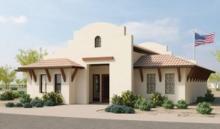 Arizona Department of Veterans' Services
15950 North Luckett Rd Marana, AZ 85653
520-638-4869
Fax Number: 
520-300-8403
Cemetery Administrator: Carla Arceneaux
Administrative Office Hours:
Mon-Fri, 8am-4pm. Office

CLOSED

weekends and state holidays.
To best serve you, we encourage appointments be made for committal service arrangements and pre-registrations.
Cemetery Visiting Hours: 6 a.m. to 6 p.m. daily 
Directions
From Tucson: I-10 to Exit 236, turn west onto Sandario Rd., then right on W. Marana Rd. 2 ½ miles to Luckett Rd., turn right; 2 ½ miles to cemetery.
Click HERE for an online map with directions generation.
Click HERE for a zoomed-in view of near-destination directions.
Our Story
The Arizona Veterans' Memorial Cemetery at Marana (AVMC-M) is located on 32 acres of high desert landscaped property. Phase one of the cemetery includes 1802 burial plots, 1938 cremated remains burial plots, and 1920 columbarium niches. Five phases are currently planned.
The cemetery was made possible by a grant from the Department of Veterans' Administration to the State of Arizona, authorizing the State to operate and maintain the Veterans' Cemetery. The AVMC-M is the 100th state veterans' cemetery nationwide to be built under the federal Department of Veterans Affairs cemetery grants program.

The cemetery's first interment took place on March 14, 2016.

Dedication was held on March 26, 2016.
View Our Cemetery
View our Facebook page to review beautiful, stirring photographs and events at the cemetery: https://www.facebook.com/AVMCatMarana/
Click HERE to view aerial drone video. Posted w/ photographer's permission.
Click HERE to view aircraft flyover video during MIAP ceremony April 15, 2017.
Click HERE to view an image of our master plan.
Floral Regulations
Please review our Floral Regulations document online at right margin, for the benefit of all visitors.
Beautification Donations
Donations for beautification projects will soon be made to Arizona Veterans' Memorial Cemetery Foundation, Inc – Marana; website: avmc-foundation.com
Eligibility
Any veteran who has an other-than-dishonorable discharge. Spouses and certain dependents are also eligible for burial. There is no charge for interment for qualified veterans, and a one-time nominal fee* for eligible spouses and dependents.
Veterans may choose:
A columbaria niche for cremated remains (which includes an inscribed marble niche cover), or
In-ground burial plot for cremated remains in a gravel section (which is marked with a flat granite memorial), or
A full-casket interment, in-ground burial (which includes an inscribed upright granite monument, and a double concrete crypt liner)
How to Apply
Applications for burial are available at the cemetery; most funeral homes in Arizona also have copies of the application form. If you would like to Pre-Register your eligibility for the AVMC-M, please complete, save, and submit the following forms:
Mail all necessary completed forms to:
 AVMC-Marana
 Attn: Pre-Registration
 15950 N. Luckett Rd
 Marana, AZ 85653
Pay Interment Fees online
Click the orange PAY NOW button below to pay online for Cemetery Interment fees.
See the links to helpful videos at the lower/right margin of this page under Important Links.