Arizona Veterans' Donation Fund - Grants
Current VDF Update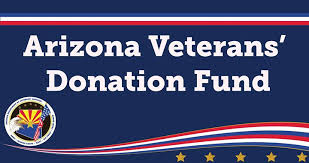 EFFECTIVE July 1, 2023
The VDF Small Grant ($4,999.99 or less) applications for Fiscal Year 2024 are now open.
EFFECTIVE December 16, 2022
The VDF Large Grant ($5,000-$75,000) applications are now closed.
What is the Arizona Veterans' Donation Fund?
The Arizona Veterans' Donation Fund (VDF), established in 1999 by the Arizona legislature (A.R.S. § 41-608), funds programs that benefit Veterans and their families throughout Arizona. Arizona State law specifies that tax-deductible donations to, and monies held in, this account can never revert to the State General Fund.
The VDF consists of monies, gifts and contributions donated to the department and donations made through the purchase of Veteran, Women Veteran and Freedom Special License Plates. The assets held in the account can only be used to benefit Veterans in the State of Arizona through small grants and large grants, each with their own documented application process.
Eligibility
Grantee must be a 501(c) charitable organization. Preferable to ADVS, Grantee has a primary mission of providing benefits to Arizona's Veterans and is compatible with ADVS' objectives determined by the Director.
If you are seeking individual financial assistance, please go here for information about the Military Family Relief Fund.

If you are seeking grants to assist with starting a Veteran owned small business please visit Small Business Administration: Veteran Owned Businesses here.

How can my organization apply for grants from the Veterans Donation Fund?
 
VDF Grants of $4,999.99 or less (Small Grant)
A VDF Small Grant application can be downloaded in fillable-PDF format below: 
Small Grant Proposals must be accompanied by a Budget Worksheet. For your convenience, a VDF Budget Template is below:
 
Spreadsheets of a similar format by Grantee will also be accepted.
Budget worksheets submitted should show line-item breakdown of all revenue and expenses for which the organization is applying for VDF grant.
Small Grant Proposals are accepted throughout the year, dependent on availability of funding.
Notification of the Department's decision will be made within 30 days upon receipt of the completed proposal.
VDF Grants of $5,000 - $75,000 (Large Grant)
All Requests for Grant Proposals of $5,000 - $75,000 must be submitted through eCivis, a cloud-based grants management system.
The VDF Request for Grant Proposal (RFGP) and a budget template can be completed by downloading the VDF Large Grant instructions and uploading required documents and filling in the digitized application form within the eCivis website HERE (link is external and will become available when the cycle opens). Upon completion of the RFGP packet and budget documentation, please upload all documents and any supporting materials using the eCivis site.
Proposals will be accepted from Friday, October 21, 2022 beginning at 3:00pm through Friday, December 16, 2022, ending at 5:00pm. For detailed instructions on applying for a grant from the VDF Fund using eCivis please review the application submission process attached with the RFGP. For reference, eCivis User Guides are available here: eCivis Grants Network External User Guide (link is external)
Pre-application Conference: Pursuant to A.R.S. §41-2702 ADVS is authorized to and will hold a pre-application conference at ADVS Headquarters with a virtual option for attendance. The purpose of the pre-application conference is to explain the grant application requirements including answering the solicitation within eCivis. Statements made at a pre-application conference are not amendments to the request for grant applications unless a written amendment is issued.
Conference Date: TBD
Conference Time: TBD
Conference Location: TBD
Follow-up: 
For information or questions regarding grants of $5,000 or more please contact the VDF Program Manager at (602) 234-8413 or via email at: [email protected]. Please do NOT use this email address to submit grant proposals; all large grant proposals MUST be submitted through the provided eCivis link.

Important VDF Links (click each to download)
Is there someone I can speak to regarding AVDF grants?
Yes. Contact the VDF Grant Program Manager through one of these channels:
Telephone (602) 234-8413
Fax (602) 297-6687
Email:

[email protected]

Regular postal mail:
Attn: VDF Grant Program Manager
Arizona Department of Veterans' Services
3839 N 3rd St
Phoenix, AZ 85012