Southern Arizona Veterans' Memorial Cemetery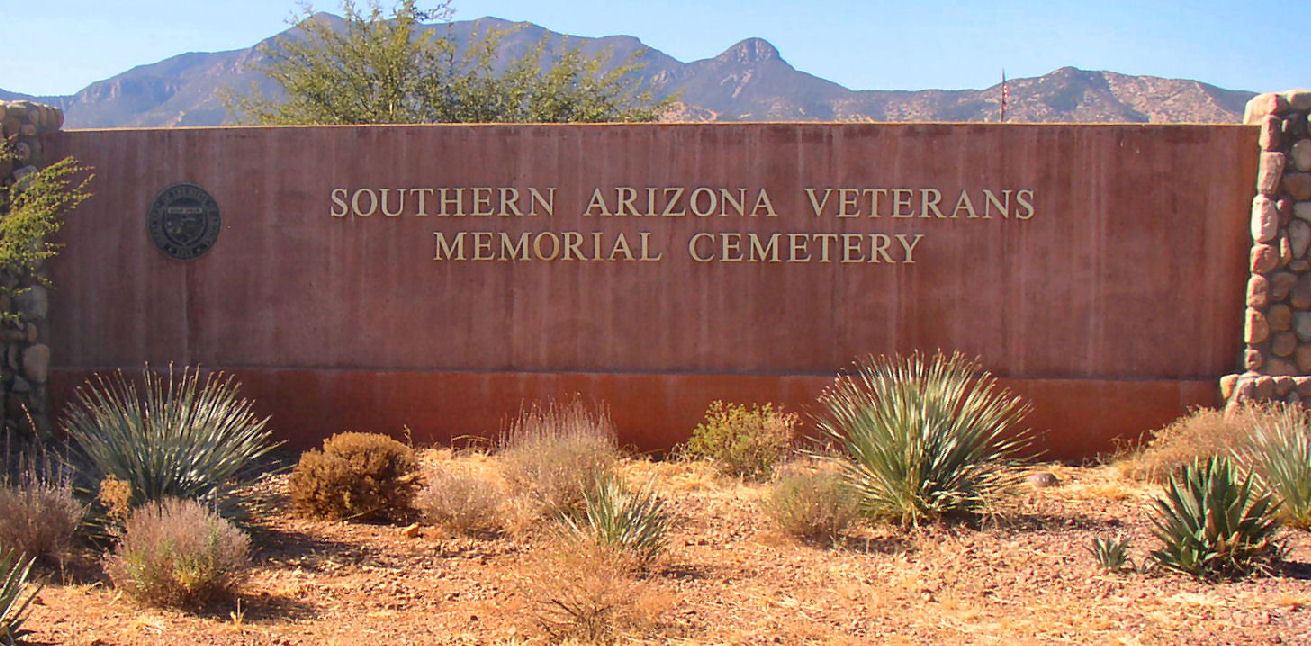 AVMC-SV
 1300 S Buffalo Soldier Trail, Sierra Vista, AZ 85635
 Email: [email protected]
 Tel: (520) 458-7144
 Cemetery Administrator: Joe Larson
Administrative Office Hours: Mon-Fri, 8am-4pm. Office CLOSED weekends and state holidays.
To best serve you, we encourage appointments be made for committal service arrangements and pre-registrations.
Our Story
The Arizona Department of Veterans' Services established the cemetery on approximately 145 acres of land, which was previously part of Ft. Huachuca Military Reservation.
The entrance is located south of Fry Boulevard on Buffalo Solder Trail
The cemetery was made possible by a $7.7 million grant from the VA State Cemetery Grant Service, for construction and equipment.
The Groundbreaking Ceremony was held October 1, 2001, and construction started the next day.
Dedication was held on October 26, 2001, and interments began on Dec 3, 2001.
View the Site
View a beautiful and stirring Cemetery Slideshow view online here, with numerous photographs hosted on Flikr.
Floral Regulations
Please review our Floral Regulations document online at right margin, for the benefit of all visitors.
Beautification Donations
Donations for beautification projects can be made to Southern Arizona Veterans' Memorial Cemetery Foundation, which website you can visit online here: www.savmcf.org
Eligibility
Any veteran who has an other-than-dishonorable discharge is eligible for burial in the SAVMC . Spouses and certain dependents are also eligible for burial. There is no charge for interment for veterans, and a one-time nominal fee* for eligible spouses and dependents. (*fees change annually based on VA-specified COLA adjustment)
Veterans may choose either:
A columbaria niche (which includes an inscribed granite niche marker). Urn sizes for columbarium wall cannot exceed the niche compartment size of 10 inches wide, 15 inches tall and 18 inches depth. 

A full-casket, in-ground burial (which includes an inscribed upright grave marker, and a single or double concrete crypt liner)
Memorial bronze markers, for individuals or groups, are furnished for eligible deceased active duty service members and veterans whose remains are not recovered or identified, are buried at sea, donated to science, or whose cremated remains have been scattered.
How to Apply
Applications for burial are available at the cemetery; most funeral homes in Arizona also have copies of the application form. If you would like to Pre-Register your eligibility for the SAVMC, please complete, save, and submit the following forms:
   SAVMC
   Attn: Pre-Registration
   1300 Buffalo Soldier Trail
   Sierra Vista, AZ 85635
Pay Interment Fees online
Click the orange PAY NOW button below to pay online for Cemetery Interment fees.
See the links to helpful videos at the lower/right margin of this page under Important Links.