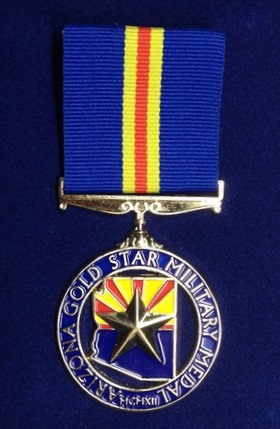 The Arizona State Legislature has created the Arizona Gold Star Military Medal to honor Arizona members of the Armed Forces of the United States of America who have been killed in action since Arizona became a State on February 14, 1912.
Medal Description
A gold star centered on a cutout of the State of Arizona in blue, red, and yellow surrounded by a circle of dark blue enamel 1 ½ inches in diameter, bearing the inscription:
"ARIZONA GOLD STAR MILITARY MEDAL MCMXII"
The blue ribbon is 1 3/8 inches wide and consists of a centered ¾ inch stripe of yellow/red/yellow, representing Arizona's colors.
Eligibility
Members of the Armed Forces of the United States who served in time of conflict and meet the criteria may be awarded the Arizona Gold Star Military Medal. Only one medal will be issued to the next-of-kin per qualifying individual.
Criteria
The Arizona Gold Star Military Medal may be awarded on behalf of the people of this state to an individual who has been killed in action from and after February 13, 1912 while:
Engaged in an action against an enemy of the United States.
Engaged in military operations involving conflict with an opposing foreign force.
Serving with friendly foreign forces engaged in an armed conflict against an opposing armed force in which the United States is not a belligerent party.
Serving in a combat zone as designated by a presidential order.
A member of the Arizona national guard, United States military reserves, or regular United States armed forces who was a legal resident of this state at the time the member was killed in action or died in the line of duty while deployed in support of combat operations from and after February 13, 1912 is eligible to receive the Arizona Gold Star Military Medal.
Application
The families of qualifying individuals applying for the Arizona Gold Star Military Medal must complete an application form and forward the request along with a copy of DD Form 1300, Casualty Report attesting to the fact that the qualifying individual was a resident of the State of Arizona at the time of death. In addition, the request must include a copy of proof of relationship as father, mother, marriage, baptismal certificates, or a notarized certificate which clearly show relationship.
If you meet the criteria for this award and would like to apply to receive it, please download, print and complete the form on page 1 of the application document (see link below), and mail it with the documents named above to the address shown at the top of the form.
Presentation
Once eligibility has been verified, the Arizona Department of Veterans' Services will contact primary next-of-kin to schedule a presentation ceremony if desired.
Download Arizona Gold Star Military Medal information and application form.
VIDEO: AZVETS Virtual Education Series - Arizona Gold Star Military Medal