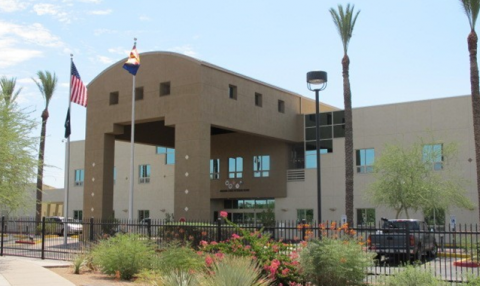 ASVH-P
4141 North Silvestre Herrera Way, Phoenix, AZ 85012
602-248-1550
Arizona State Veteran Home Phoenix
ASVH-PHX is a 200-bed Medicare-certified, skilled-nursing care facility for eligible Arizona veterans, located in central Phoenix, near Indian School Rd and 3rd Street, at:
Telephone: 602-248-1550

Press "1" for a recorded update
Press "2" for the Reception Desk
Watch our informative ASVH-Phoenix video online HERE.
This state-owned and operated facility is set between the Carl T. Hayden Veterans Administration Medical Center and Steele Indian School Park. The 200 beds are divided into 150 long-term care beds, a 25-bed memory care unit, and a 25-bed Medicare/rehab-focused unit.
Of special interest is that our Phoenix home is located on Silvestre Herrera Way, which is named for WWII Medal of Honor recipient Silvestre S. Herrera.
Care & Features
ASVH-PHX serves the long-term care and rehabilitative needs of the veterans of Arizona, with energetic and caring staff whose members provide nursing, therapeutic recreation, and social services to those who have served our nation.
Rehabilitative therapy is provided seven days a week. Physical therapy is designed to improve movement and function. Occupational therapy is designed to improve daily living skills, while Speech therapy is intended to improve memory and swallowing disabilities. The Namaste program is a person-centered approach to late-stage dementia care developed by Joyce Simard.   
The facility provides a free, private, resident-use telephone for local calls at bedside, and free cable TV. Each resident room contains a TV and a DVD player. The facility boasts a 1000 DVD shared movie library, and residents may enjoy internet access on their own personal electronic devices throughout the building using facility-provided WiFi. Effective September 2018, we also have a high-quality movie theater for hosting special movie and documentary screenings.
Veteran seniors and their spouses who choose long-term care enjoy a vibrant, independent lifestyle with customized services to fit their needs. Resident veterans enjoy comfort, dignity, and warm social connections. A variety of activities are planned and promoted, enhancing the sense of community for each resident. Caregivers are respectful, well-trained, and attentive.
Counseling Services
A Veterans Benefits Counselor is available onsite to assist the veteran resident in obtaining their veteran benefits/pension. Social Services are available to provide psychosocial support and discharge planning for residents and their families.  
Volunteer Opportunities
We are open to those citizens offering to volunteer to support our veterans here at ASVH-PHX. Please complete a Volunteer Form online and/or call our main number to inquire: 602-248-1550. Find more details online here. Volunteer orientation is TYPICALLY held on the 3rd Monday of the Month at 5:00pm. Volunteer Orientation is subject to change so please ALWAYS contact Brittany Tashner at [email protected] to confirm orientation time/day.
Eligibility
An applicant is eligible for admission if the applicant is an honorably-separated veteran, or the spouse of a veteran. As a pre-requisite, the applicant must require skilled nursing care as determined by a physician. There must be documented evidence of the absence of tuberculosis.
Admission information and forms may be obtained by calling the Admission Coordinator at 602-248-1594. Close personal assistance is provided in completing the admission documents.

Follow us on Facebook to get an impression of the Arizona State Veteran's Home in Phoenix, and to help you and your family determine if it is the right place for you.