Mission Statement
The Arizona Department of Veterans Services is actively working to ensure every Veteran and Service Member comes home to a job. Whether you're wishing to work for an established employer or start your own business, the Arizona Department of Veterans Services is compiling the tools and information to help you secure your economic well being.
Join Us at ADVS
At the Arizona Department of Veterans' Services, we take very seriously our work in support of Veterans, service members and their families. Our Veterans served our country when called upon, so we are proud to serve them in return. Whether supporting our Veterans with nursing care, in times of struggle, through loss and bereavement, or assisting them in navigating access to their Veteran...

Hire Vets Act

Visit the website https://www.hirevets.gov/.
The Honoring Investments in Recruiting and Employing American Military Veterans Act of 2017 (HIRE Vets Act or the Act), signed by President Trump on May 5, 2017, requires the Secretary of Labor to establish a program, by rule, that recognizes employer efforts to recruit, employ, and retain veterans. Employer-applicants meeting criteria...

Gold Card
The Gold Card provides unemployed post-9/11 era veterans with the intensive and follow-up services they need to succeed in today's job market. The Gold Card initiative is a joint effort of the Department of Labor's Employment and Training Administration (ETA) and the Veterans' Employment and Training Service (VETS). An eligible veteran can present the Gold Card at his/her local One-Stop Career...
Employers Looking To Hire Veterans & Vice-versa
Employers Seeking Veterans
If you would like to post employment positions within your organization, the sample resources below provide you with the ability to post open positions. The Arizona Department of Veterans' Services does not have a dedicated employment website; however, ADVS provides many resources and benefits to our state's veteran population as well as...
Economic Veterans Programs
The primary objective of the Veterans Program is to develop and support programs that increase opportunities for veterans to obtain employment and job training in Arizona. Eligible veterans are entitled to receive priority services in job referrals and training by DES staff, as well as other employment-related services.
As part of our services, we will provide Unemployment Insurance...
Civilian Credentialing Assistance
A product for Army Service members, Ignited defines civilian credentials which best map to their Military Occupational Specialties, ratings, jobs, designators, and collateral duties/assignments. It outlines the path, work, training and experience required to achieve them. Ignited also provides "how to" instructions for pursuing credentials, links to credentialing organizations, and cross-...
Arizona Veteran Employment - Roadmap - Home
Arizona is home to more than 625,000 service members and veterans from all branches and eras of service. These individuals and their families have proven to be a valuable asset to our state and our workforce.
The Arizona Roadmap to Veteran Employment, developed in partnership by the Arizona Department of Veterans Services, Arizona Coalition for Military Families, and many public and...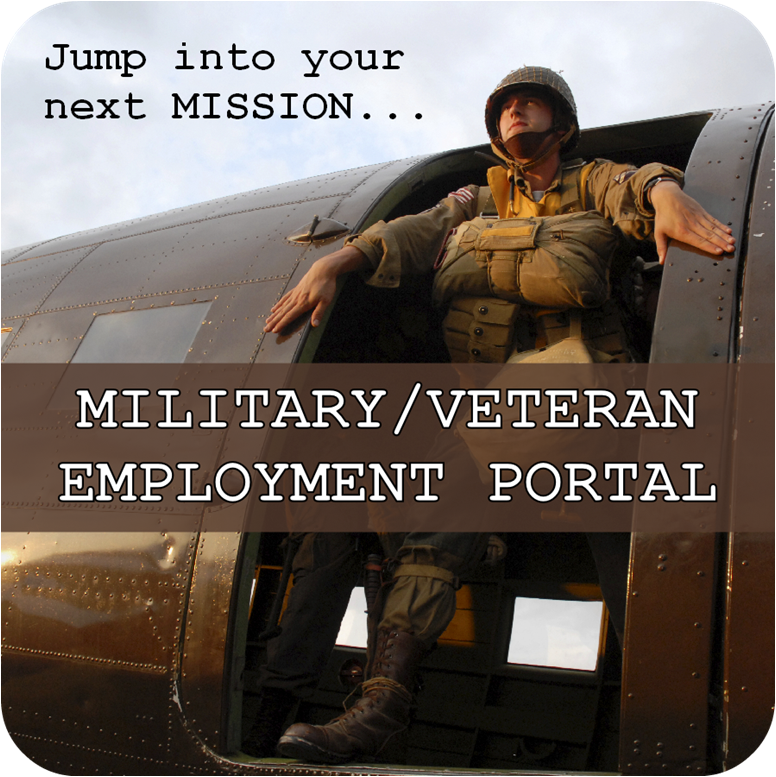 Arizona Coalition for Military Families
The Arizona Department of Veterans' Services has partnered with the Arizona Coalition for Military Families to connect service members, veterans and their family members to employment, educational and small business ownership opportunities.
The Military/Veteran Employment Portal is part of the Military/Veteran Employment Resource Center located at the Arizona National Guard Personnel Readiness...

DES Vet Programs
DES operates two programs throughout Arizona to assist veterans in finding employment:
Disabled Veterans Outreach Program (DVOP): DVOP specialists provide intensive services to meet the employment needs of special disabled veterans, disabled veterans, veterans and eligible persons. DVOP specialist are actively involved in outreach efforts to increase program participation among those...