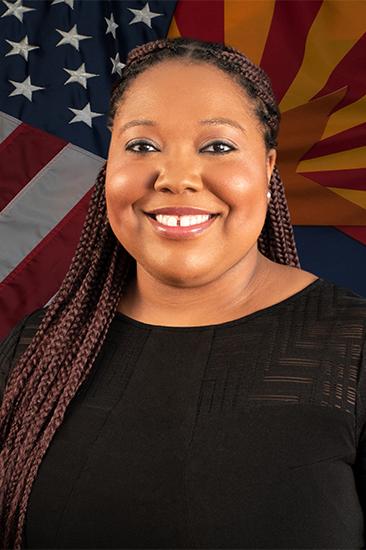 ADD, Public & Intergovernmental Affairs
Organization: 5-ADVS
Nicole Baker is the Assistant Deputy Director for Public and Intergovernmental Affairs with the Arizona Department of Veterans' Services. Nicole provides oversight of the Department's unique veteran programs, community-based grants and special initiatives designed to serve Arizona's veterans, service members and their families. She also manages the Department's community engagement and communications plans.
Nicole held various positions in print and broadcast journalism in media markets in Oklahoma and Idaho before joining the Department in 2017 as a Public Information Officer. 
Nicole served in the Army National Guard for six years and in the U.S. Army Reserve for two years, as a public affairs broadcast specialist. Her work has been featured on the Armed Forces Network, Army Times and several other TV and newspaper outlets. She's served with units in Texas, Oklahoma, Idaho and Arizona. Her favorite assignment was being attached to the 173rd Airborne Brigade for Operation Atlantic Resolve, where she earned The Army Commendation Medal for her dedication to duty. 
Nicole is an alumna of Oklahoma State University, where she earned a Bachelor of Science in Sports Media Broadcast Production.