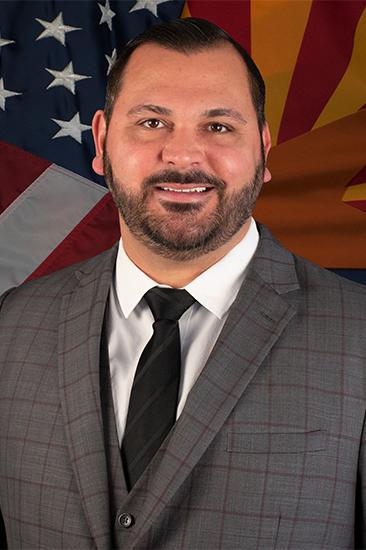 Deputy Director, Veterans' Services
Organization: 2-ADVS
Arizona Department of Veterans' Services Deputy Director John Scott II is the third generation of his family to serve in the U.S. military. He served in the U.S. Marine Corps from 1999 to 2003 as an M-198 Howitzer Section Chief, obtaining the rank of Sergeant. In addition to his duties, John was also the Nuclear, Biological and Chemical Non-Commissioned Officer, and Weapons Instructor for his Marine Corps unit.
John attended college at the University of California - Los Angeles and received a Bachelor of Arts in Psychology. In 2007, he began working with veterans at United States Veterans Initiative, coordinating housing and rehabilitation programs for homeless veterans in Southern California. In 2009, John created the Veterans Reentry Program, a residential program focused on holistic treatment of post-war stressors for homeless Iraq and Afghanistan veterans. This program was the first of its kind in California specifically for Operation Enduring Freedom and Operation Iraqi Freedom veterans. 
Seeing the emerging mental health needs of veterans, John decided to further his education and get his Master's Degree in Social Work. In 2011, John interned at the Long Beach VA in the Operation Enduring Freedom/Operation Iraqi Freedom Post-Traumatic Stress Disorder Clinic, diagnosing and treating veterans with PTSD. That same year he accepted a position at Santa Monica College as a Manager in the Veterans Resource Center. His focus was to inform and train faculty and staff about the veteran experience. In 2012, John moved to Phoenix to serve as the Executive Director for U.S.VETS-Phoenix. He wrote several federal grant applications that were awarded, such as Supportive Services for Veteran Families, Grant and Per Diem, and Department of Labor workforce grants to increase the resources for homeless veterans in Maricopa County. Under John's leadership, U.S.VETS-Phoenix grew from two to five locations, increasing the number of veterans served annually from 400 to 1500. He was also a Commissioner for the City of Phoenix and ADVS.
His current duties include executive management of the Arizona State Veteran Homes and the Veteran Services, Public and Intergovernmental Affairs and Administration divisions.