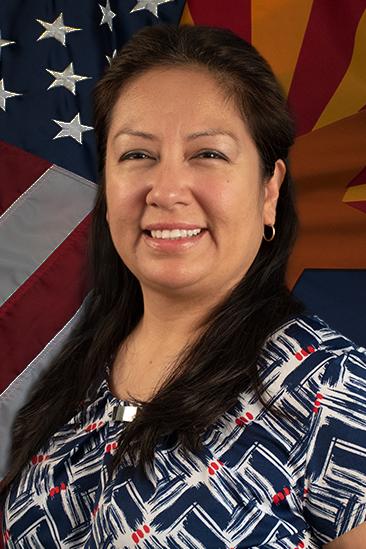 Regional Director of Nursing
Organization: 8-ADVS
3839 N 3 St, Phoenix, AZ 85012
Adela Buelna is the Arizona Department of Veterans' Services Regional Director of Nursing. Adela is a Registered Nurse that oversees nurse assessment coordinators, ensuring they follow state and federal regulatory guidelines. Adela is accountable for coordinating and managing the full collaborative, interdisciplinary assessment and care planning process in post-acute care, long-term care, and skilled nursing facilities. The ultimate goal of the assessment and care planning process is to promote the Veterans quality of care and life including individuality, safety, wellness, satisfaction, and dignity. She follows person-directed care and facilitates this through the  assessment and care planning process.

She is responsible for overseeing and attesting to the completion of the Minimum Data Set (MDS), which is the key driver for Medicare payment and Medicaid reimbursement systems along with the coordination of care delivery by applying advanced nursing clinical skills, completing assessments, analyzing data, education team members, and coordinating the exchange of Veteran information across the care settings.

Adela has worked in the healthcare industry since 1998 with 12 years in Long Term Care and Skilled Long Term Facilities as a floor nurse, other nursing leadership roles, and as a MDS coordinator.

Adela is Resident Assessment Coordinator -Certified, RAC-CT. Adela holds an Associate Degree in Applied Science in Nursing from Glendale Community College.