2019 Military & Veteran Women's Summit
ADVS Military & Veteran Women's Summit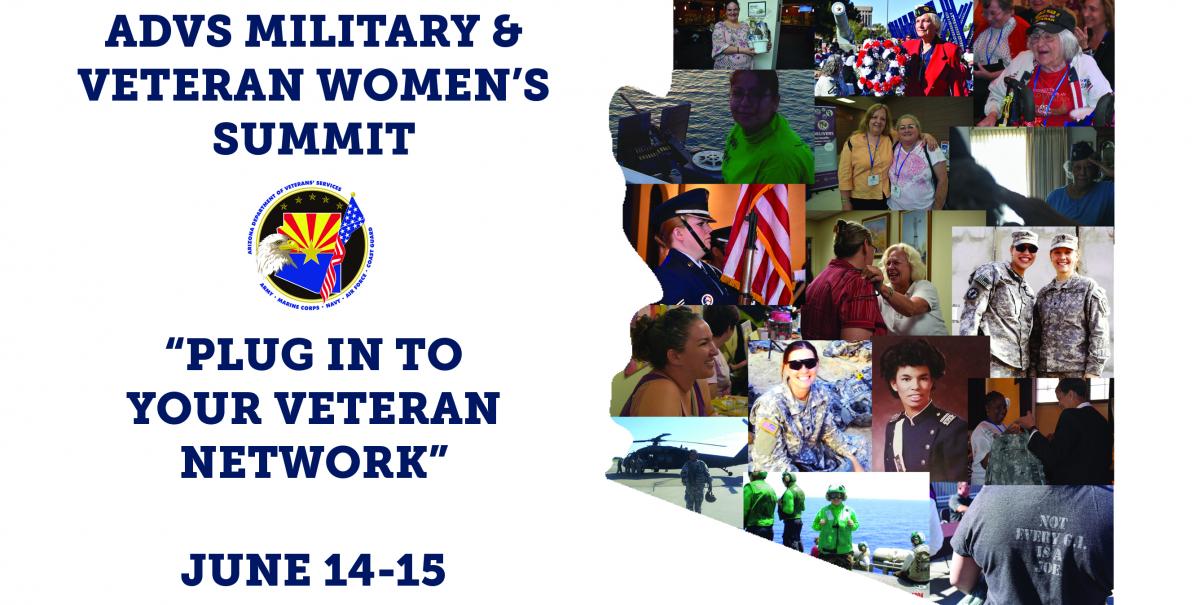 The Arizona Department of Veterans' Services is proud to present the Military & Veteran Women's Summit. The summit, in support of the theme "Plug in to Your Veteran Network," is designed to serve women veterans and service members of all age groups and from every corner of Arizona! From benefits and healthcare to employment, financial fitness and more – there's something for everyone!
We will kick off Friday, June 14th with a networking social that will feature live entertainment, networking opportunities, and more. Saturday, June 15th will be a full day of activities! We'll have keynote speakers, exhibitors, team-building activities and breakout sessions dedicated to the filling the needs of Arizona's military and veteran community. CLICK HERE for the full agenda!

We are grateful to our sponsors who have ensured this event comes at no-cost to Arizona's women veterans and service members. If you're interested in becoming a sponsor, email [email protected] to learn about the sponsorship packages.

What: ADVS Military & Veteran Women's Summit
When: June 14 & 15, 2019
Where: Tempe Mission Palms Hotel & Conference Center
60 E. 5th Street, Tempe, AZ 85281
CAR GIVE AWAY
Bravo Brotherhood will donate a car to one deserving woman veteran. The veteran must be present to win!
To nominate a veteran: https://forms.gle/yRXcuKAJe8EZM4qDA
To nominate yourself: https://forms.gle/sWSJXe19TU5wWCJHA
LODGING
Lodging is available at Tempe Mission Palms Hotel. There are rooms available at a discounted rate of $89 (excluding taxes and fees) for a limited time. Book here: http://bit.ly/2P4HCW2
There are scholarships available for hotel rooms. If you receive a scholarship you will be sharing the room with another woman veteran. To inquire about a scholarship, email [email protected].
CHILDCARE
Childcare is not available for this event.
KEYNOTE SPEAKER
JENNIFER MARSHALL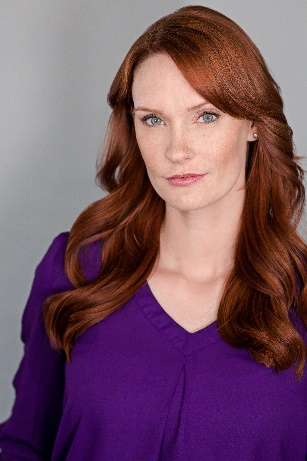 Living in a one stoplight town, seventeen-year-old Jennifer Marshall jumped at the chance to join the Navy—leaving for bootcamp just five weeks after graduation. Her first command was Outlying Field San Nicolas Island where she worked as a plane captain. Later, she transferred to the nuclear-powered aircraft carrier, USS Theodore Roosevelt (CVN-71), serving as a Logistics Specialist and deploying for Operation Iraqi Freedom. During her service, she had a variety of collateral duties, including serving on the Ship's Security Defense Team and the Repair Locker Fire Team—both teams staffed heavily of males. Jennifer also volunteered as a Sexual Assault Victim Intervention advocate, working hard to protect the rights of fellow sailors who had experienced a Military Sexual Trauma. After nearly 5 years of service, she honorably separated as a Petty Officer 2nd Class. During her service, Jennifer earned a Navy/Marine Corps Achievement Medal, Global War on Terrorism Expeditionary Medal and the Enlisted Aviation Warfare Specialist designation, among other awards. An actress and producer, Jennifer has produced 15 PSAs highlighting the service of female veterans that have been widely disseminated by the VA and other organizations. Additionally, she has worked as the technical advisor for numerous VA PSAs to ensure female veterans are accurately depicted. Jennifer advocates for female veterans, MST survivors and is passionate about empowering veterans to have a successful transition from military to civilian life. You might recognize Jennifer from her roles on Stranger Things, Hawaii Five-0, and Nickelodeon's Game Shakers, to name a few.

DELPHINE METCALF-FOSTER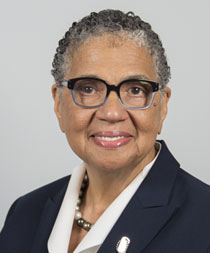 Delphine Metcalf-Foster, a disabled U.S. Army veteran, was elected National Commander for the more than 1 million-member DAV at the organization's 2017 National Convention in New Orleans, Louisiana.
The Vallejo, California native's military career included service with the U.S. Army Reserve, 689th Quartermaster Unit, 6253rd Hospital Unit and 6211th Transportation Unit, Letterman Army Medical Center. She retired from the Army Reserves with the rank of first sergeant in 1996.
Metcalf-Foster was injured in January 1991 while serving in Saudi Arabia in support of Desert Storm/Desert Shield. At the time she was supporting the Grave Registration Company mission. She was medically evacuated to Germany for care and treatment.
Metcalf-Foster is a life member of DAV Chapter 21, Vallejo, California. She currently serves on the First Data Military Advisory Council and is a member of the DAV Department of California Claims and Service Committee, and has served as Chairman for the DAV Department of California Resolution Committee. Metcalf-Foster also completed a four-year appointment as a member of the Secretary of Veterans Affairs Advisory Committee on Women Veterans in November 2015.
A retired Quality Assurance work leader from the Alameda Naval Air Station in Alameda, California, Metcalf-Foster's leadership has been sought at the local, state, and national levels. She served as chairman of the Hospital/Volunteer Intern Committee, National 16th District Executive Committee, and has served as director and treasurer for DAV at the national level.
A graduate of Solano Community College and Sonoma State University, Metcalf-Foster majored in psychology and liberal studies. She currently resides in Vallejo, California, and is the mother of three children, Linda, Shawn and Dana
PLUG IN TO THESE BREAKOUT SESSIONS:
Connect the World with Science and Technology
Presented by Honeywell
We are building a smarter, safer, and more sustainable world. That's the Power of Connected. That's the Power of Honeywell.
Science Technology Engineering and Math also known as S.T.E.M. sometimes means a 4-year degree, and sometimes doesn't. In this session, you will engage with veterans that applied their military experience and skills to become part of the Honeywell Family. Connect to software, mechanical engineering, technology and aerospace veterans that are living the power of connection at Honeywell.
Honeywell Aerospace innovates and integrates thousands of products, software and services to advance and more easily deliver safe, efficient, productive and comfortable transportation experiences worldwide. Our offerings are found on virtually every commercial, defense and space aircraft.
Taking Care of You: Nutrition
This session will introduce nutritional support through healthy cooking and alternative food choices. Learn about nutrition know-how to improve your diet and boost your energy and add healthy ingredients to your daily nutrition plan.
Taking Care of You: Yoga
Based on the latest scientific research, the health benefits of yoga balance mind-body-spirit via various poses and breathing techniques. We take an experiential approach to help participants explore how every day stress affects our well-being and actions. Please wear comfortable clothes if you want to participate. Everything else you need will be provided. Breathe. Stretch. Relax. Have fun doing it. Empower yourself with yoga. Please bring comfortable clothes if you plan on attending this session.
Taking Care of You: Self-Defense
This session will cover how to react in a self-defense situation against the vulnerable parts of an attacker's body. Attendees will learn countermeasures you can use during a real-life situation. Knowing you can defend yourself, your confidence will grow. Please bring comfortable clothes if you plan on attending this session.
Accessing Your Veteran Benefits & Resources
Representatives will be available to explain eligibility requirements for benefits, processing VA compensation and pension claims, appealing or hearing process, survivor's benefits, records management, state benefits, and more.
Budget and Credit Management
Presented by Navy Federal Credit Union
Personal money management consists of identifying your goals, setting priorities, making a plan and keeping a record of your expenses so you can review and evaluate your goals. Remember, a budget will help you live within your income. It is also a way to help get what you want out of life.
Home Buying Roadmap: Follow Your Path Home
Presented by Navy Federal Credit Union
Are you ready to start paying towards your own equity? Are you ready to own your own home? Learn about the various types of mortgages available and how to utilize your VA Eligibility towards a new home. Are you ready to buy a home, but unsure where to start? Knowing what to expect when buying a home can make the process as stress-free as possible.
Savings and Retirement Planning
Presented by Navy Federal Credit Union
Are you on the right track? No matter where you are in life, it's never too late to make saving for retirement a priority.
Panel: Women's Healthcare
VA Healthcare experts will lead a panel, providing information to support women in navigating their unique health concerns. Experts will discuss the latest research on gynecology, breast imaging, endocrinology, and overall health.
Panel: Finding Your Voice in the Legislative Process
The purpose of this panel is to guide attendees through the legislative process and how to successfully bring women veteran issues to the forefront of policy priorities. Panelists will discuss and share their experiences on introducing legislation and how you can become effectively involved.
Panel: Hearing Our Voice: LGBTQ Veterans & the Community
Research shows that women are highly represented among LGBTQ Veterans. In this session you will hear from LGBTQ veterans and community programs about their initiatives.
Panel: Discovering Your Path: Employment
Veterans will have the opportunity to speak to employers who have hiring authority within their companies. You will have direct information on employer expectations regarding resumes for the job, interviewing skills and advice; job search techniques; and the importance of LinkedIn accounts.

For more information, email: [email protected]