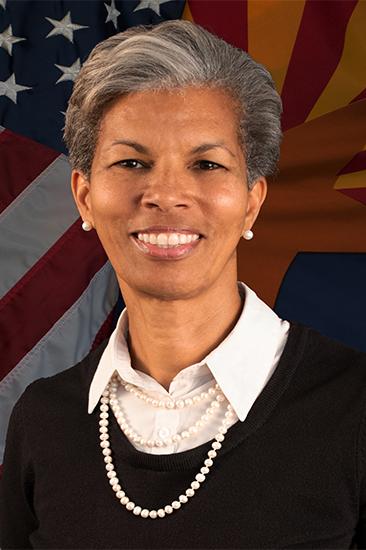 3839 N 3rd St, Phoenix, AZ 85012
Arizona Department of Veterans' Services Director, Col. Wanda Wright is the third generation of her family to serve in the U.S. military. She has three decades of military experience. As a 1985 United States Air Force Academy graduate, Col. Wright began her military career as Deputy Budget Officer with the Tactical Air Command at Myrtle Beach, South Carolina with a follow-on assignment to Davis-Monthan AFB as the Budget Officer.
Leaving active duty in 1990, Col. Wright joined the Arizona National Guard. During the next 21 years, she served in various positions including accounting and finance officer, communications officer, executive officer and, finally, as the Director of Staff for the Adjutant General in Phoenix. Among her proudest achievements was to serve as Air Commander of Operation Jump Start from June 2006 to December 2008 during which she commanded more than 4,000 airmen from 52 states and territories on our Southwest border.
Col. Wright holds a B.S. in Management from the U.S. Air Force Academy, a M.B.A from Webster University in South Carolina, a M.P.A. from the University of Arizona, and a M.A. in Educational Leadership from Arizona State University.
Col. Wright's military decorations and awards include the Legion of Merit, the Meritorious Service Medal with oak leaf cluster, and the Air Force Commendation Medal.
In 2018, Col. Wright was appointed to the VA's Advisory Committee on Women Veterans, an expert national panel that advises the secretary on issues and programs impacting women veterans.
Organization: 1-ADVS