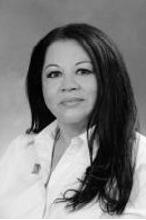 3839 N 3 St, Phoenix, AZ 85012
Rebecca F. Villalpando was born in Phoenix, Arizona. She attended Sacred Heart Elementary School, and graduated from Trevor G. Browne in 1978.  Commissioner Villalpando joined the U.S. Navy in January 1980.  She attended Radiomen "A" School in San Diego, California; her first duty station was at the Naval Telecommunication Center in Moffett Field, California. She worked as a Radioman in the top secret Telecommunication Center under Admiral May, commander of the Seventh Fleet. Her next duty station was at the Naval Telecommunications Center in Guam, where she communicated with ships at sea, submarines, and pilots on reconnaissance flights.
Commissioner Villalpando ended her active duty service but remained a reservist. During her tenure as a reservist, she was stationed on the USS Nashville and the USS Bolder where she tested and worked on communication equipment.  She was one of four reservists chosen to represent the State of Arizona and participated in the "Unveiling of the Statue of Liberty" in New York City.  After her military career of eleven years, she attended ASU to pursue her Psychology degree with a Minor in Political Science.    
Commissioner Villalpando currently works for the State of Arizona as a Veteran Workforce Specialist.   She has served on many commissions and boards and is part of the Congressional Hispanic Caucus Alumni.