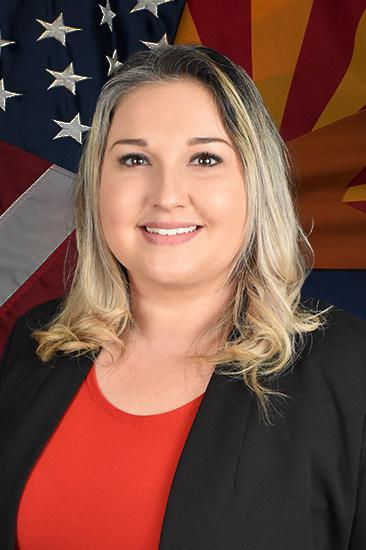 Organization: 9-ADVS
Jessica Roza is the Legislative Liaison for the Arizona Department of Veterans' Services. She serves ADVS by monitoring legislation that affects Arizona Veterans, service members and their families. Jessica helps create a legislative agenda that supports the agency's mission of being the catalyst in response to the evolving needs of Arizona's Veterans and their families.
Prior to her role as Legislative Liaison, Jessica was the Program Administrator within the Arizona Department of Veterans' Services Public & Intergovernmental Affairs division where she oversaw the administration of multiple agency programs, community-based grants and special initiatives designed to serve Arizona's Veterans, service members, and their families.
Jessica's career in public service began when she served in the California Army National Guard and the U.S. Army Reserve as a Paralegal Specialist and Financial Management Specialist. Additionally, she brings unique perspectives after being the third generation of her family to serve in the U.S. military and a former military spouse.
After eight years of military service, she continued to serve in local government as a paralegal for a City Prosecutor in Junction City, Kansas. She also has experience at the federal level having served as the Military and Veteran Community Liaison for Congresswoman Debbie Lesko (AZ-08).
Jessica will graduate with her Bachelor of Science in Homeland Security & Emergency Management with a minor in Criminal Justice Administration in the spring of 2023 from National University and is enrolled in their Transition Program to pursue her Master of Public Administration with a specialization in Organizational Management. She also actively participates in volunteer opportunities with many Veteran Service Organizations, various continuing education trainings and advocacy in areas of personal interest such as mental health and trauma-informed care, domestic and sexual violence prevention, human trafficking, and victim's rights.